Do you make these common English errors?
Improve your English fast:
Avoid these common mistakes!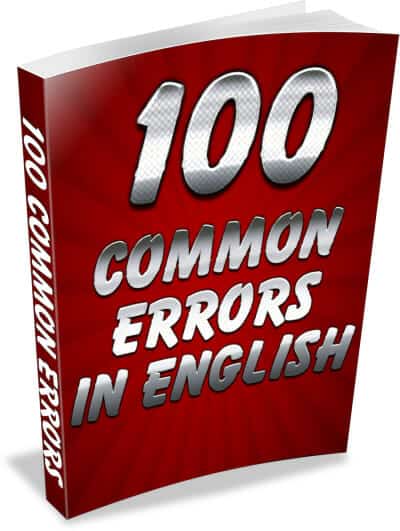 E-Book: $15


Want to see a sample of the e-book before you buy it?
Download a free sample >>
Speak English more confidently!

Most English students make the SAME speaking errors – from beginners to advanced students. But learning the most common errors is one of the fastest ways to improve your English. You'll be able to speak more confidently because you know your English is correct!
About the 100 Common Errors in English E-Book
This e-book has explanations of 100 common errors that English students often make while speaking or writing in English. It has 68 pages and is in PDF format. You can buy the book online with a credit card, through a secure connection.
If you have any questions or problems, please send me an e-mail!
About the English Teacher
My name is Shayna, and I want to help YOU learn to speak English!
I am from the United States and I now live in Brazil, where I work as an English teacher and translator. I have a CELTA certification to teach English to adults, and I really enjoy helping my students communicate better.
I am 28 years old and married, and in my free time I like to read, write, play soccer, go hiking, and do capoeira. I also love to travel and learn about different countries and cultures – please write to me and tell me where you are from. I hope you enjoy my website!
Examples of Common English errors in the book:
Difference between TO and FOR
When to use ALL, WHOLE, and EVERY
Difference between ROBBER, THIEF, and STEAL
Common mistakes with ENOUGH and TOO
Difference between LISTEN and HEAR
Difference between LOOK, SEE, and WATCH
How to use ALTHOUGH, EVEN THOUGH, BUT, DESPITE, and IN SPITE OF
Difference between BIG, GREAT, and LARGE
Difference between SHOULD, COULD, and WOULD
Common errors with MOST, MOST OF, BOTH, and BOTH OF
Difference between LITTLE and A LITTLE
Commonly confused words like ADVICE and ADVISE, MARRIAGE and WEDDING, AS FAR AS and AS LONG AS, and SILENT and QUIET
Common errors with PAST PARTICIPLES
Common errors in the SECOND CONDITIONAL
Infinitive vs. Gerund
Difference between THANKFULLY and HOPEFULLY
Difference between FEMALE and WOMAN
Commonly confused words RISE, RAISE, and ARISE
Difference between MADE OF and MADE FROM
Difference between ASSURE, ENSURE, and INSURE
+ Many more common English errors with explanations and examples!
+ 12 bonus English errors, for a total of 112.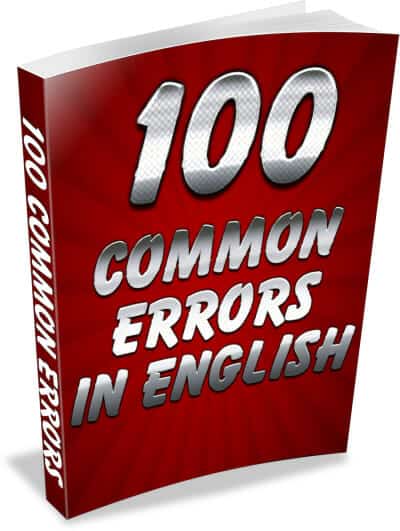 E-Book: $15


Share and Enjoy