For the most dedicated students!
45-Lesson Course + Teacher Feedback
$90
Personal feedback & correction from the teacher on your written English

---
How can you reach a
more advanced level

of English?
If you've been learning English for a long time, you might feel like your English is "decent,"
but you still have some problems: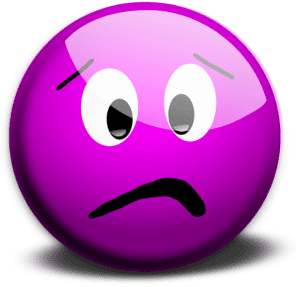 Your English is reasonably good for basic communication…
😵

…but you have

difficulty creating more complex sentences.
Other people say your English is fine…
❌

…but you know you're still

making some grammar mistakes.
Most online English lessons are too easy for you…
🗨️ 

…and you need something to

help you reach the next level.
---
You don't want your English to be just "good enough"…
You want your English to be GREAT.
---
You
CAN

master advanced English grammar!
But you need the

right lessons

.
You need lessons that will help you:
SEE

the grammar in action
Truly
UNDERSTAND

how it works
And
USE

the grammar successfully yourself!
---
When you learn and practice this way, it will help you use grammar
correctly

and

naturally

while speaking and writing

in English!
---
Hi, I'm Shayna – the teacher here at Espresso English.

I've helped more than 10,000 students like you, from all over the world, improve their English through my clear and practical lessons.

With more than 10 years of teaching experience, I know how to get you the results you want from your English learning, without wasting your time.
---
The Advanced English Grammar Course: 45 lessons to help you master the details of the English language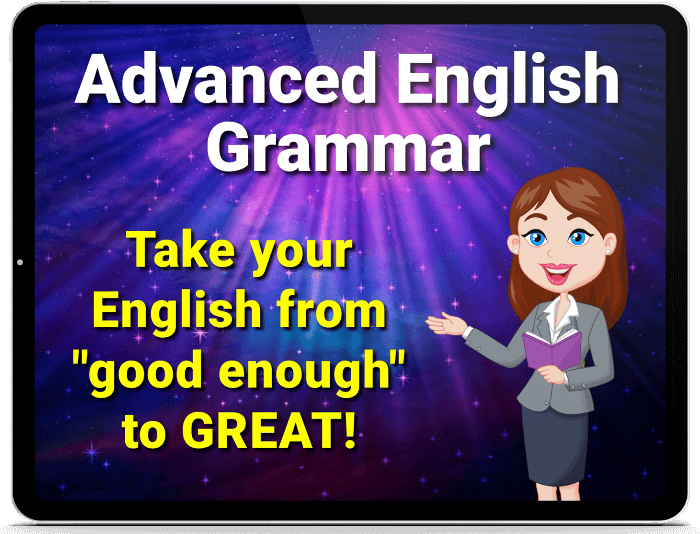 ---
Here's what you'll be able to do inside the Advanced Grammar Course:
| | |
| --- | --- |
| | Master all the English verb tenses – plus conditionals, modal verbs, passive voice, question formation, and reported speech |
| | Gain a deep and detailed understanding of nouns, articles, possessives, pronouns, adjectives, and adverbs |
| | Learn how to use a variety of prepositions and other small connecting words to link your ideas together |
| | Discover more advanced sentence structures that native English speakers use |
| | Review and practice everything you learn with the included quizzes |
| | (Optional) Send in your writing and get personalized feedback from a teacher |
---
+ Get teacher feedback on YOUR English

Want personalized feedback and correction on your writing?

Choose the option that includes teacher feedback!

At the end of each lesson, you can send in a written text and an Espresso English teacher will evaluate it and send you comments.

It's a very valuable way to find out exactly what you're doing well, and exactly how to improve.
---
Student comment:

"This is the best English course I've ever taken! The explanations in all the lessons are very clear and detailed. I got to know the mistakes that non-native English speakers commonly make.

What's most interesting is that there are writing tasks in every lesson and I could send my writing in for correction! I love it very much! Through this, I got to know my grammatical mistakes that I'd been making for years." – Foong, Malaysia
---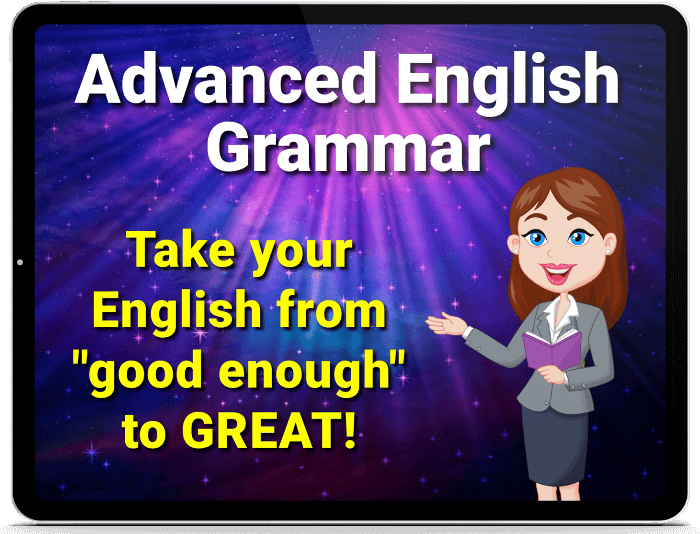 ---
100% Satisfaction Guarantee

I know you'll love this program and you'll learn a lot from it – but if you're not satisfied, just e-mail me within 7 days of purchase and I'll send you a refund within 24 hours.
---
FREQUENTLY ASKED QUESTIONS:
---
How do I know if I'm advanced enough for the course?
This course is great for students who are upper-intermediate level and above.
(Intermediate students can also join… if you're ready for a challenge!)
These are general indications you might be ready to study Advanced English Grammar:
What topics am I going to learn?
Can I see a free sample lesson?
Yes! Click here to take a free sample lesson.
How can I practice and get help from a teacher?
Each lesson includes two ways to practice what you're learning:
A quiz or worksheet to practice the specific grammar from the lesson. You can do the exercises and check your answers yourself.
Optional – If you join the version of the course that includes teacher feedback, each lesson will also include a writing task (2-3 short paragraphs) which you can send in to our teaching team. A teacher will evaluate and correct your text and send it back to you. This is your chance to get feedback from a native English speaker and expert teacher!
Do I get access to all the lessons instantly?
Yes!
Is there a time limit for my access?
There's no time limit – the lessons will be yours to keep forever!
This means that it's totally fine if you don't have time to do a lesson every day. You can save them for later and study at your own pace. Your access to the course is permanent.
How can I pay? Is it safe?
You can pay with a credit card, debit card, or PayPal.
The connection for the payment is secure; it protects your information.
---
Are you ready to learn advanced English grammar
effectively

?
Join the course and start today!