Most popular!
Pronunciation + Shadowing
$60 $45
Get a discount when you buy both levels of the course!
60 total lessons

---
👄 Your pronunciation is one of the FIRST things


other people notice

about your English! 👄

---
If your pronunciation is
not clear

,
then you'll have lots of

problems communicating.

Other people often
won't understand you

.
They just look at you in
confusion

…
or they might frown and say, "What?"
This is VERY
embarrassing

!
---
What's worse, it makes you

lose confidence

in your own English.

You begin to doubt yourself…
And then it will be even more difficult to speak next time, because you'll be worrying about whether or not people will understand you.
---
If you make a lot of
pronunciation mistakes

– or if you have a

strong accent

– then it will be much harder for you to speak English successfully.

How can you improve your pronunciation?
Is it possible for you to sound more like a native English speaker?
🗨️

YES

, YOU CAN – WITH PRACTICE! 🗨️
Improving your pronunciation is like doing exercise at the gym:

When you do lots of pronunciation exercises…
…and you keep doing them consistently…
You'll get
better pronunciation

over time.
THE RESULT:
You'll be able to speak English much more

clearly, confidently,

&

correctly

!

Imagine native speakers
understanding you easily


and even

complimenting you

on your English.
That would be AMAZING 🤩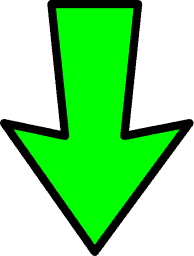 Where can you get
effective pronunciation training

?
⭐ Inside our courses, which are designed to
help you get GREAT pronunciation!⭐
---
Hi, I'm Shayna – the teacher here at Espresso English.

I've helped more than 10,000 students like you, from all over the world, improve their English through my clear and practical lessons.

With more than 10 years of teaching experience, I know how to get you the results you want from your English learning, without wasting your time.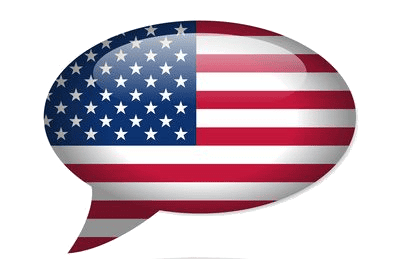 Here's how the Pronunciation & Shadowing Courses will help you:
| | |
| --- | --- |
| | Listen & repeat words & phrases to practice all the sounds of American English |
| | Learn to make the difference between similar sounds (ex. bit/beat, ship/chip) so that you can avoid embarrassing pronunciation mistakes |
| | Practice connecting words in sentences, so you can speak more naturally and continuously |
| | Get a professional pronunciation evaluation by a teacher at the end of each course! |
---
WHAT YOU'LL GET WHEN YOU JOIN:
Pronunciation training you can do anytime, anywhere
---
---
---
Student Story: Marcia from Brazil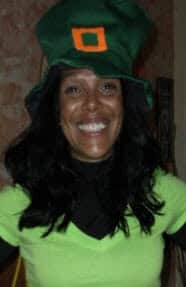 "I'm from Brazil but I live in the U.S. since 2009, married to an American citizen. When I came here, my English was poor, just for survival. I improved a little bit, but my pronunciation was terrible and I had lots of difficulty understanding spoken English. "The American English Pronunciation Course" was exactly what I needed.
Shayna is an excellent teacher, she gives you all the tips, she knows the difficulty the person has. In 30 days my pronunciation improved fast, my English is much better and I'm feeling more confident. Everybody noticed my performance."
💚 2,000+ students love these courses! 💚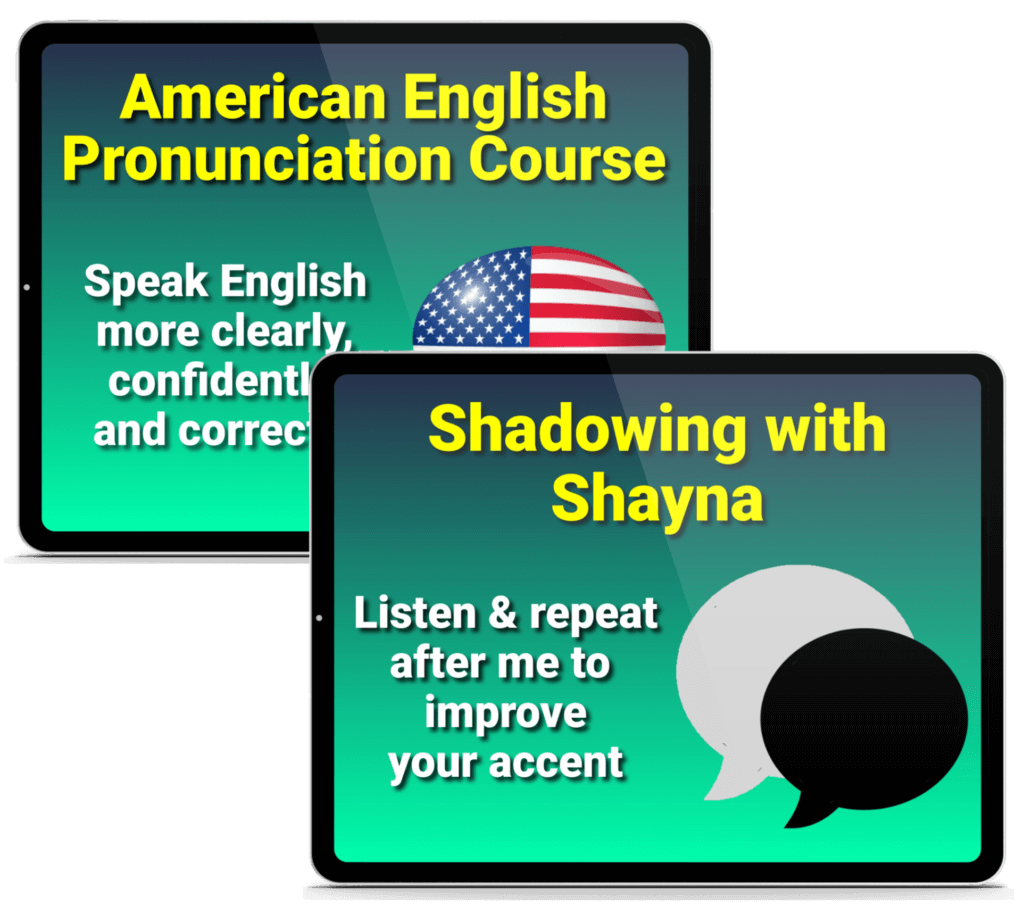 Start improving your pronunciation!

---
100% Satisfaction Guarantee

I know you'll love this course and you'll learn a lot from it – but if you're not satisfied, just e-mail me within 7 days of purchase and I'll send you a refund within 24 hours.
Frequently Asked Questions
What's the difference between the Pronunciation & Shadowing Courses?
The American English Pronunciation Course focuses on practicing and perfecting the individual sounds of English. It covers all the vowel and consonant sounds, with exercises to help you differentiate similar sounds (ex. sit / seat) and work on difficult sounds (ex. TH).
In the Shadowing with Shayna Course, you'll train your pronunciation further by simply listening & repeating whole phrases after me. I say a phrase and leave a pause so you can repeat it immediately, imitating my pronunciation and intonation.
The best way to experience the difference is to try the free sample lessons (links are below!)
How long will I have access after I join?
Your access is instant and permanent – there's NO TIME LIMIT, so you can study as fast or as slow as you want!
Can I see the lesson list?
Sure! Click on the following links:
Can I see a sample lesson?
Yes! Here you go:
How can I pay? Is it safe?
You can pay for the course with credit card, debit card or PayPal.
Yes! The payments are made through a secure connection that keeps your information safe.
---
American English Pronunciation & Shadowing with Shayna:
Learn to speak English clearly, confidently, and correctly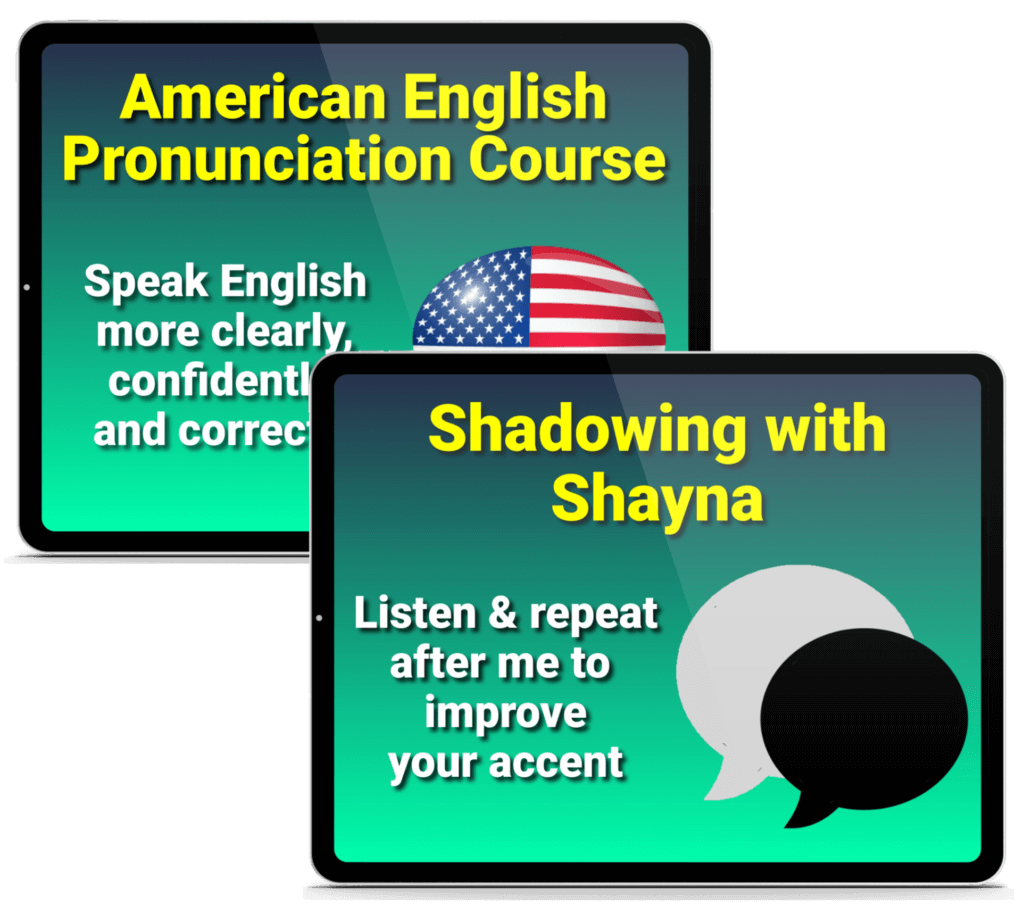 Yes! I want to improve my pronunciation