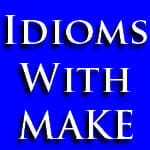 You probably already know some basic English expressions with the verb "make," such as "make breakfast," "make money," and "make a promise" – but here are 15 idiomatic expressions in English that might be new for you.
After the lesson, make sure to take the quiz to practice the idioms!
#1 – make a last-ditch effort
This expression means to make a final effort, at the last possible opportunity:
"I made a last-ditch effort to talk to my ex-girlfriend before she moved to a different city, but she didn't return any of my phone calls."
#2 – make a killing
This idiom has nothing to do with violence! Instead, it means to make a lot of money (usually very quickly).
"Jack buys apartments located on beautiful beaches and rents them out to tourists. He's making a killing!"
#3 – make your mouth water
If a food "makes your mouth water," it means that it's so delicious that you start to get saliva in your mouth just by thinking about it and wanting to eat it. The expression "mouth-watering" can also be used as an adjective to describe food that looks or smells extremely good:
"Wow – just looking at that triple chocolate cake makes my mouth water."
#4 – make a pass at / make eyes at
Both of these idioms mean to demonstrate romantic/sexual interest in someone. "Make a pass at" is more active, like directly saying or doing something to show you are romantically interested. "Make eyes at" is more like looking at a person with your romantic interest showing in your eyes.
"At the Christmas party, the company president made a pass at the new secretary."
#5 – make your blood boil
If something "makes your blood boil," it means it makes you feel extremely angry.
"The corruption in this country makes my blood boil. I can't stand to think how much money is wasted with political scandals."
#6 – make up your mind
This idiom is an informal way to say make a decision.
"Should I buy a bike or a skateboard? I can't make up my mind."
#7 – make do
This expression means to manage with the resources available (especially when some resource is missing)
"Sorry, I forgot to buy paper towels. We'll just have to make do with napkins."
#8 – make your head spin
If something "makes your head spin," it means it makes you extremely confused.
"I don't understand the instruction manual for this computer program – all the technical jargon just makes my head spin."
#9 – make (food) from scratch
This expression means to cook food from the original ingredients – not using any previously prepared items. For example, if you buy a can of tomato sauce, then you did not "make it from scratch" because you bought it already ready to eat. But if you cut up and cook tomatoes and add salt, spices, etc. to create the sauce, then your tomato sauce is "made from scratch."
"These cookies are delicious! Did you buy them or make them from scratch?"
#10 – make a comeback
When someone or something was popular/successful… then loses its popularity for a while… and then starts to gain popularity again, this last part is called "making a comeback." It is frequently used with fashion trends, pop culture fads, and singers and celebrities whose careers may go up and down.
"The actor's last two films were terrible, but he's making a comeback with his most recent movie – it got great reviews."
#11 – can't make heads or tails of something
If you "can't make heads or tails of something," it means you can't understand it at all.
"These legal documents are really complicated. I can't make heads or tails of them."
#12 – make light of something
This expression means to treat something as unimportant.
"Don't make light of the communication problems between our employees. It's really a serious situation that needs to be resolved."
#13 – make the grade / make the cut
Both of these idioms mean to be up to a standard of quality. They are often used in the negative, when something does not meet the quality requirements.
"She was eliminated in the second round of the singing competition – her voice just wasn't didn't make the cut."
#14 – make waves
If something "makes waves," it means it causes wide impact on a group or society in general. The impact can be good, like a new technology improving the way everybody communicates – or it can be bad, like one country's financial crisis affecting other countries, too.
"The author's controversial new book is making waves in the literary community."
#15 – make your day
If an event "makes your day," it means it made you very happy, like it was the best thing to happen in the whole day.
"It made my day when the English teacher said I was the best student in the class."
Quiz: 15 Idiomatic Expressions with the Verb Make
A fun & easy way to learn English idioms
Learn more about the Idioms Course