Why take a course at Espresso English?
You can study at your own pace. There is no time limit for accessing the lessons, and you can download everything, too – so you can study even when you don't have an internet connection.
You'll learn quickly with fast & practical lessons. My teaching style is direct and to-the-point; I teach you the most useful and relevant English in an effective way.
You'll improve your listening. All Espresso English courses come with downloadable audio. Use it to work on your comprehension or practice listening and repeating to improve your pronunciation.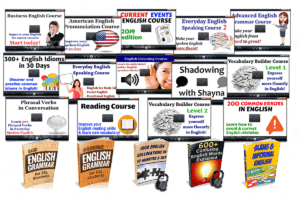 You can get ALL the Espresso English courses and e-books – a total of more than 600 lessons – at a 50% discount!
You will improve every area of your English skills, including speaking, vocabulary, grammar, reading, listening, pronunciation, phrasal verbs, idioms, and more.
Which Espresso English course or e-book is best for me?
Want to help sell my products? Become an Espresso English affiliate!