GET UP = LEAVE YOUR BED
I usually get up at 7:00, but yesterday I got up at 9:00 because it was a holiday.
My mother likes to get up early because she has lots of energy in the morning.
My brother is grumpy when he first gets up in the morning.
What time do you get up on weekdays and on weekends?
---
GET OUT = GO AWAY, LEAVE
There are two possible ways to use "get out."
1) If you tell somebody to "get out," it is usually because you are angry at them:
Get out! You're a terrible person and I never want to see you again!
If you don't get out of my store right now, I'm going to call the police.
2) "Get out" can be used as an informal way to say "leave":
What time do you get out of class? = What time do you leave class?
I usually get out around 6:30. = I usually leave around 6:30.
Have you ever told someone to "get out"?
---
GET INTO = BEGIN TO DO OR BE INTERESTED IN
I'm really getting into hip-hop. I love the music and the dance!
My brother has really gotten into tennis. He plays 5 times a week nowadays.
I don't think I could get into surfing. I don't really like water sports.
What activities have you gotten into recently?
---
GET ALONG WITH = HAVE A GOOD RELATIONSHIP WITH
My parents don't get along with each other. They're always fighting.
I get along really well with my sister. We talk on the phone all the time and help each other with all our problems.
John doesn't get along with Clara. He thinks she's annoying, and she thinks he's selfish.
Who do you get along with the best in your family and at work or school?
---
GET OVER = RECOVER, CONTINUE WITH LIFE AFTER A DIFFICULT EVENT
It took me 6 months to get over my last breakup. I really thought we were going to get married.
My mother died when I was a child, and I don't think I've ever gotten over it. I still miss her.
You're still sad about your boss' criticism of your work? Get over it already!
How long did it take you to get over the last difficult event in your life?
---
GET BY = SURVIVE
He doesn't make a lot of money, but he gets by. He has enough to pay for his basic expenses.
I can't get by without my morning coffee… I need caffeine to stay awake in English class!
Because of the financial crisis, many families are just barely getting by.
Can you get by without your computer? Why or why not?
Learn Phrasal Verbs the Natural Way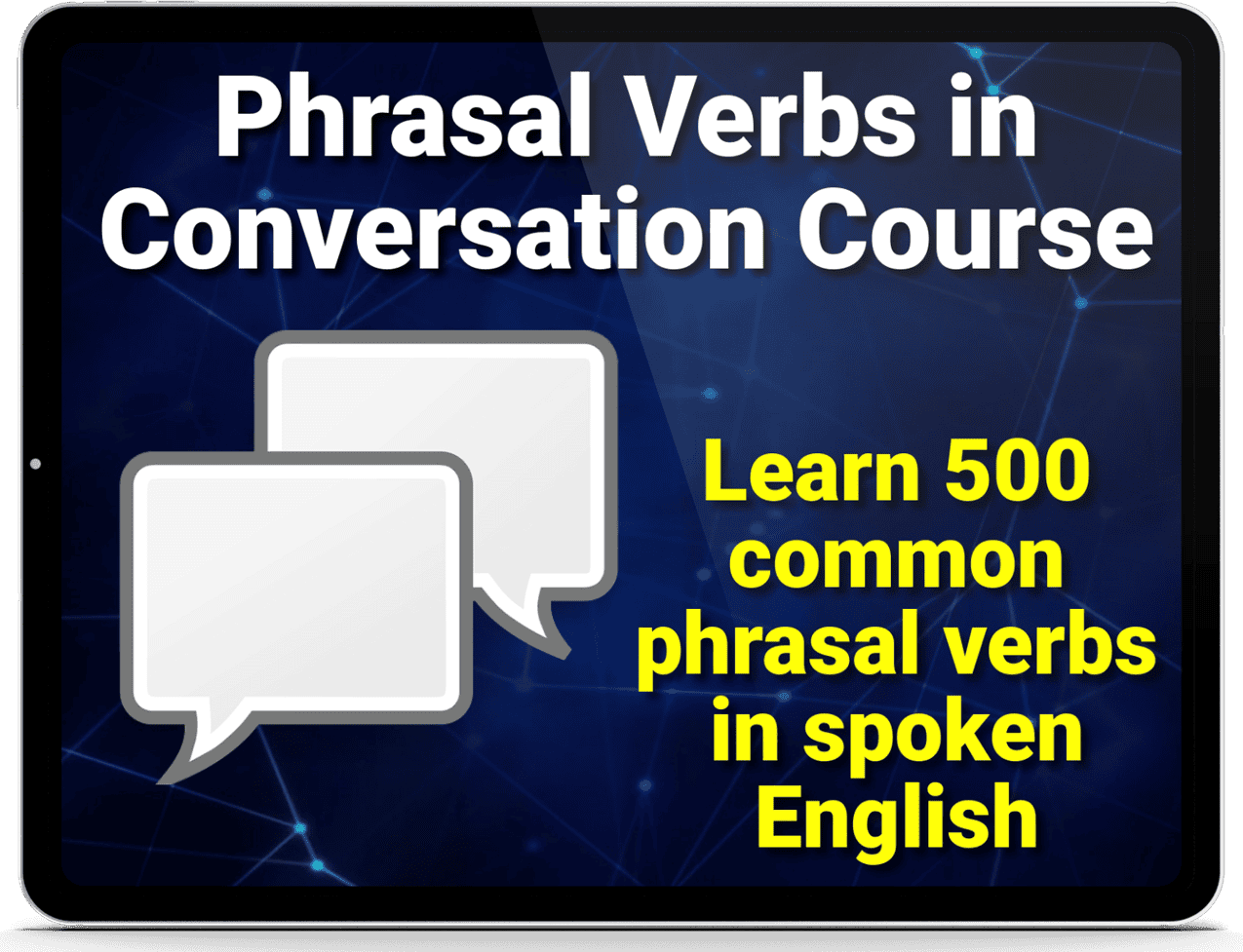 If you want to be fluent in English, then you need to know phrasal verbs! However, most traditional English textbooks don't focus on them.
The Phrasal Verbs in Conversation Course will teach you 500 common phrasal verbs in the context of everyday dialogues.
By listening to and reading the conversations, you'll understand how each phrasal verb is used in spoken English – and there are plenty of quizzes and exercises for you to practice using the phrasal verbs in your own English.
Learn more about the Phrasal Verbs Course