Vocabulary Builder Course
Heteronyms
in English are two words with the same spelling, but different pronunciations and different meanings.
Two common examples are the words close and live:
close (adj.) with an "s" sound = near, not far
My house is close to the bus station.
close (v.) with a "z" sound = shut, opposite of open
Please close the door when you leave.
live (v.) with the same "i" as in "sit" = reside
I live in an apartment in the city center.
live (adj.) with the same "i" as in "I" (me) = happening at that moment, in that place
I was interviewed on live TV.
There's live music at the restaurant
Here are 15 interesting heteronyms in English:
alternate
AL – ter – net (n.) – an alternative, the next option
We have an alternate plan if this one doesn't work.
AL – ter – nate (v.) – switch back and forth between two things
I alternated between hope and despair.
attribute
AT – tri – bute (n.) – a characteristic of something
His intelligence is one of his best attributes.
at – TRI – bute (v.) – give credit for something
This famous saying is attributed to Benjamin Franklin.
content
CON – tent (n.) – information or objects that are contained in something else
The security officer inspected the contents of my suitcase.
con – TENT (adj.) – satisfied, happy
I was content with the grade I got on the test.
deliberate
de – LIB – rit (adj.) – done with intention and awareness, on purpose (opposite of accidentally)
His comment wasn't a mistake; it was a deliberate insult.
de – LIB – er – ate (v.) – discuss, debate
The managers deliberated for an hour about how to solve the problem.
desert
DE – sert (n.) – a very dry area of land
It's hard to find water in the desert.
de – SERT (v.) – abandon, leave without coming back
My father deserted our family when I was only 6.
dove
duv (n.) – a type of bird
I could hear the doves singing outside my window.
dove (v.) – past tense of "dive"
She dove into the swimming pool
lead
leed (v.) – direct, show the way, be the leader
The teacher will lead the students on an excursion.
led (n.) – a type of metal
These bullets are made of lead.
minute
MIN – it (n.) – a period of time, 60 seconds
Can I call you back in ten minutes?
my – NUTE (adj.) – extremely small
This isn't an exact replica; there are some minute differences.
moderate
MOD – er – et (adj.) – in the middle, not extreme
I'm looking for a hotel with a moderate price – not too expensive, not too cheap.
MOD – e – rate (v.) – to make less extreme, OR to supervise/preside over
The boss moderated a few of her strongly negative comments so as not to hurt the employee's feelings.
The TV producer moderated the panel discussion among scholars of different perspectives.
polish / Polish
PAH – lish (n. / v.) – to make shiny, or the substance used to make something shiny
I polished the silver teakettle.
There's a can of furniture polish in the basement.
POH – lish (adj.) – from Poland
My grandparents are Polish; they immigrated to the U.S. in 1950.
refuse
re – FYOOZ (v.) – to say no, to reject
He refused to discuss the topic, saying it was none of my business.
RE – fyoos (n.) – garbage, waste
Did you know that most households generate 500 pounds of refuse per year?
separate
SEP – ret (adj.) – apart, distinct
There are separate bathrooms for men and women.
SEP – a – rate (v.) – action of setting things apart.
You should separate the white clothes from the colored clothes before washing them.
tear
TEER (n.) – the drops of liquid that come out of your eyes when you cry
A single teartrickled down his face.
TARE (v.) – pull into pieces by force; rip (past tense = tore)
She tore the wrapping paper off the Christmas present
wind
WIND (n. – "i" as in "sit") – moving air
My dog likes to put his head out the car window to feel the wind.
WAIND (v. – "i" as in "I") – wrap something around something else
The doctor started to wind the bandage around my arm.
wound
WOWND (v.) – past tense of "wind" – wrapped something around something else
The doctor wound another bandage around my leg.
WOOND (n.) – injury, especially one in which the skin is broken.
He sustained serious wounds in the explosion.
Want to increase your vocabulary
& improve your fluency?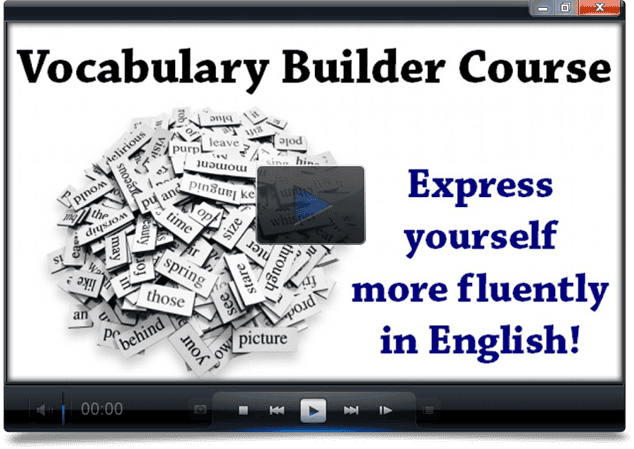 Learn more about the Vocabulary Builder Course
Image sources: