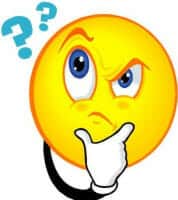 How well do you know English phrasal verbs?
Take this quiz to find out!
Phrasal Verbs in Conversation Course
English Phrasal Verbs Quiz
Congratulations - you have completed English Phrasal Verbs Quiz. You scored %%SCORE%% out of %%TOTAL%%. Your performance has been rated as %%RATING%%

Your answers are highlighted below.
We invited a lot of people to the party, but only a few ____________ up.
Question 1 Explanation:
The phrasal verb "show up" means to appear or arrive for an event.
He got very angry and started yelling. Everyone told him to calm __________.
Question 2 Explanation:
The phrasal verb "calm down" means to become more relaxed, to stop being angry or agitated.
I can't believe I _________ into a friend of mine from childhood at the festival - I hadn't seen her in twenty years!
Question 3 Explanation:
To "bump into" someone can mean to encounter them unexpectedly. Another phrasal verb to describe an unexpected meeting is to "run into."
My daughter loves to make __________ stories. She's very imaginative - maybe she'll be a writer someday!
Question 4 Explanation:
To "make up" stories or facts is to invent them from your imagination.
We set __________ on our road trip at around 5 A.M.
Question 5 Explanation:
The phrasal vebrs "set off" and "set out" mean to begin a journey.
Three months later, he's still upset that he didn't get the job. He should just get _________ it already!
Question 6 Explanation:
To "get over" a problem means to recover from an emotional difficulty or disappointment
During the meeting, she ___________ up a lot of issues that had been problematic for a long time.
Question 7 Explanation:
The phrasal verb "bring up" means to introduce a topic in conversation.
While we were exploring the city, we came ___________ a wonderful antiques shop.
Question 8 Explanation:
To "come across" something means to find it unexpectedly.
My parents expected me to get good grades, and I always studied hard so that I wouldn't _________ them down.
Question 9 Explanation:
To "let somebody down" is to disappoint them.
The woman was handing ____________ free samples of perfume.
Question 10 Explanation:
To "hand something out" or "give something out" means to distribute it to various people.
Once you are finished, click the button below. Any items you have not completed will be marked incorrect.
There are 10 questions to complete.
Improve your knowledge of phrasal verbs… learn them naturally in context!
Learn more about the Phrasal Verbs Course