Do you want to try my lessons before you buy them?
Go right ahead! Click the green button to download free sample lessons from ALL my products:
Download your Free Lesson Sample Pack
It's a large file – 172 MB – so it will take some time to download fully!
After downloading, "unzip" or "extract" it on your computer.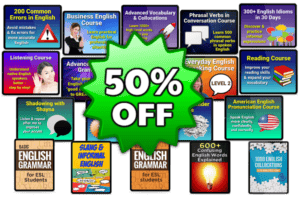 If you love all the samples, I'd recommend purchasing the Complete Program, so you can get a 50% discount.
Plus, I'll send you a USB drive which conveniently has all the files downloaded onto it already… so you can study both online and offline!
Alternatively, you can use these individual links to take free sample lessons.
Which Espresso English course or e-book is best for me?