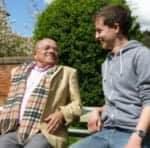 Do you think you're too old to learn English?
If so, 80-year-old Samuel Malheiros from Brazil will prove you wrong!
Malheiros left his native Brazil to study English at Kaplan's English school in Oxford. Although he had studied English in the past, he wanted to immerse himself in an English-speaking environment with plenty of conversation practice.
Because the students at the school are from many different nationalities, Malheiros had to speak English all the time with his classmates, both inside the classroom and during social activities. He made lots of friends as he shared his life experience in English.
Malheiros is a lawyer and also the president of Alliance Francaise in Vitoria, Brazil. He already speaks several other languages, and is very dedicated to succeeding in his English studies.
"My journey will not end here," he says. "When I finish studying I plan to continue traveling around the world and keep on speaking and learning English."
——————————————————–
This post comes from Kaplan International Colleges.
Kaplan International Colleges is part of Kaplan, Inc., an international education services provider offering higher education, professional training, and test preparation. Kaplan is a subsidiary of The Washington Post Company (NYSE:WPO). http://www.kaplaninternational.com