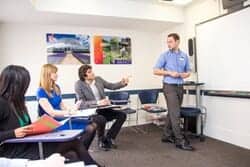 The Kaplan International school in Leicester Square is geared towards the specific needs of English learners who are 25 and over.
Craig Sargent, Principal at Kaplan International Colleges London Leicester Square, is confident that the school will be able to offer the best possible learning experience for this group of students, many of whom are very successful.
Students who want to improve their academic and business English skills will benefit from the school's new Professional English program. In addition to studying with peers of similar age and background, learners will enjoy the social activities that are geared towards a more mature age group.
Kaplan International Colleges offers a variety of English courses and programs for learners of all ages at its 45 English language schools located around the world.
——————————————————–
This post comes from Kaplan International Colleges.
Kaplan International Colleges is part of Kaplan, Inc., an international education services provider offering higher education, professional training, and test preparation. Kaplan is a subsidiary of The Washington Post Company (NYSE:WPO). http://www.kaplaninternational.com