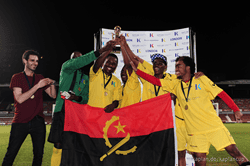 The inaugural Kaplan Cup, a soccer tournament organized by Kaplan International English, was a spectacular success.
More than 150 international students from 25 countries competed in men's and women's divisions. The games were played at Upton Park, home of the Premier League football club West Ham United. Hundreds of spectators watched the four-hour tournament, which was hosted by BBC presenter and commentator Mark Scott.
Angola captured the trophy in the men's competition with a narrow 1-0 win over France. In the women's tournament, a specially-assembled World Team beat Italy 1-0 in another exciting final.
The Kaplan Cup was co-sponsored by Kick it Out, an organization that promotes equality and inclusion in soccer. According to Dean Watson, Grassroots Development Officer at Kick It Out, "Sport and education have a pivotal role to play in promoting equality and inclusion."
Visit the Kaplan Cup homepage to see photo galleries, player profiles, and final results.
————————————————–
This post comes from Kaplan International English
Kaplan International English is part of Kaplan, Inc., an international education services provider offering higher education, professional training, and test preparation. Kaplan is a subsidiary of Graham Holdings Co. http://www.kaplaninternational.com