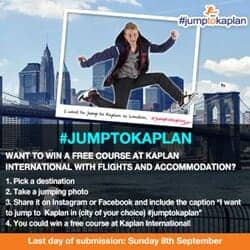 Want to win a free two-week English course in a country of your choice? The #JumpToKaplan photo competition will award one lucky winner the opportunity to "jump" to one of Kaplan's English language schools around the world, with all expenses paid.
All you need to do is choose the location where you would like to study, take a "jumping photo," and post it on Instagram by September 8th with the hashtag #jumptokaplan and the caption "I want to jump to Kaplan in…" You can submit an unlimited number of photos – be sure to use your creativity!
The top 4 photos will be chosen by a team of judges, and then the final winner will be selected by voting on the @kaplaninternational Instagram account.
Kaplan International's creative manager, Ido Simyoni, says: "It will be very interesting to see the creativity of people along with the locations their pictures will be taken in. we are looking to be surprised and to get many people wanting to Jump to Kaplan."
Click here for more details about the #JumpToKaplan competition.
———————————————————-
This post comes from Kaplan International Colleges
Kaplan International Colleges is part of Kaplan, Inc., an international education services provider offering higher education, professional training, and test preparation. Kaplan is a subsidiary of The Washington Post Company (NYSE:WPO). http://www.kaplaninternational.com