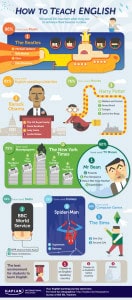 Kaplan International Colleges recently surveyed more than 500 ESL teachers from dozens of countries to discover today's top methods for enhancing English lessons with fun and creative activities.
The vast majority (86%) of English teachers use music in the classroom – and the most popular band, by far, is The Beatles. The classic songs of the Fab Four are used by 40% of the English teachers surveyed, whereas just 6% reported using Michael Jackson's music and 5% the reggae music of Bob Marley.
James McCartney, the only son of Paul McCartney, thinks it's great that The Beatles' music, which he describes as "a bridge of love and communication," is being used to help students learn the English language.
Other results of the survey, including the most popular movies, TV shows, celebrities, newspapers, radio, comics, and computer games used in ESL teaching, are published in Kaplan's How to Teach English Infographic.
——————————————————–
This post comes from Kaplan International Colleges.
Kaplan International Colleges is part of Kaplan, Inc., an international education services provider offering higher education, professional training, and test preparation. Kaplan is a subsidiary of The Washington Post Company (NYSE:WPO). http://www.kaplaninternational.com