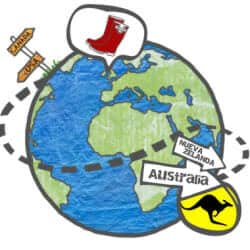 Kaplan International Colleges have awarded scholarships to five Spaniards whose aspirational essays stood out among more than 1000 applications. The winners will have the opportunity to learn English with Kaplan in Canada, Australia or New Zealand, the United States, the UK and Ireland.
The five winners were selected by judges and Facebook fans after writing essays entitled "The Experience of a Lifetime" describing how studying English abroad would help them achieve their goals and dreams.
Sofía Villafañe Escudero wrote about the lack of job opportunities in Spain, where a large percentage of young adults are unemployed; learning English will give her life skills and career advantages. Patricia Cid Jimenez described how a near-death experience gave her a new appreciation for life and a desire to make the most out of every day. Rubén Rodriguez Montero and Ana Abad de Larriva wrote about their passion for traveling and learning, and Guadalupe Sánchez Martínez also focused on the positive experience of encountering new and different cultures while abroad.
According to Raquel Martinez, Head of Spain for Kaplan International, "It has been a very emotional experience for all of us reading the essays full of dreams and aspirations. Students have fantastic values in Spain."
——————————————————–
This post comes from Kaplan International Colleges.
Kaplan International Colleges is part of Kaplan, Inc., an international education services provider offering higher education, professional training, and test preparation. Kaplan is a subsidiary of The Washington Post Company (NYSE:WPO). http://www.kaplaninternational.com