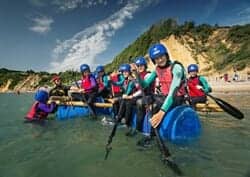 Beginning in the summer of 2014, young English learners ages 12-16 will be able to have a real English-learning adventure in the Kaplan Isle of Wight adventure course.
This groundbreaking new program is a partnership between Kaplan International Colleges and Kingswood, a provider of adventure courses for UK schoolchildren.
The Isle of Wight is the perfect setting for teens with a spirit of adventure. The program is located just a few minutes away from the island's beautiful beaches, and offers more than 50 activities including surfing, kayaking, climbing, and high ropes. Accommodation in comfortable and homely shared rooms is provided.
In this course, students can enjoy exciting and challenging activities in a safe environment with fully-qualified instructors. In addition, they will study English with Kaplan's K+ teens methodology, which has been created especially for young learners.
This new adventure English course is sure to be the experience of a lifetime!
——————————————————–
This post comes from Kaplan International Colleges.
Kaplan International Colleges is part of Kaplan, Inc., an international education services provider offering higher education, professional training, and test preparation. Kaplan is a subsidiary of The Washington Post Company (NYSE:WPO). http://www.kaplaninternational.com