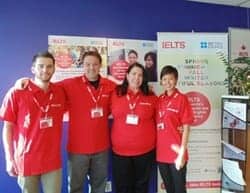 English learners can now take the IELTS exam at the Kaplan International Colleges' Vancouver school, which has recently been certified as an official IELTS test center.
Te IELTS (International English Testing System) is often used as an evaluative tool for higher education, and an increasing number of English students in Canada have been seeking preparation courses and exam dates.
So far, over 100 tests have been completed at Kaplan International Vancouver – and the center will add extra exam dates in 2014.
To prepare for the exam, students can take Kaplan's specialized IELTS preparation program to learn the best strategies for taking the test. The program involves 28 lessons and 7 sessions outside the classroom.
The director of Kaplan's Vancouver center, Lynne Gladstone, says the courses and programs have been running at full capacity. "We are very proud to offer the facilities and staff to run these exams."
——————————————————–
This post comes from Kaplan International Colleges.
Kaplan International Colleges is part of Kaplan, Inc., an international education services provider offering higher education, professional training, and test preparation. Kaplan is a subsidiary of The Washington Post Company (NYSE:WPO). http://www.kaplaninternational.com