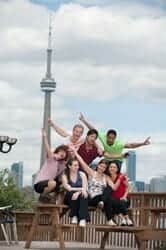 The Kaplan English schools in Canada have received accreditation from Languages Canada, the industry association for language schools.
Kaplan's English-learning centers in Vancouver and Toronto were audited by an external company, Orion Assessment Services, to evaluate the consistency and quality of the study and work programs.
The assessment found that Kaplan's schools meet or exceed the industry standards in communication, orientation, and student monitoring. This means that students have a consistently great experience in the study and work programs. Kaplan's Canada centers received accreditation until 2015.
Study and work programs are a great way for international students to get practical English experience alongside their classroom learning. "Whether this is in an office environment, a typical student job in a restaurant or supermarket or as part of a ranch stay, students can really experience Canadian culture, meet new people and be challenged in a different way," says Jon Barrett, the director of Kaplan's Toronto school.
——————————————————–
This post comes from Kaplan International Colleges.
Kaplan International Colleges is part of Kaplan, Inc., an international education services provider offering higher education, professional training, and test preparation. Kaplan is a subsidiary of The Washington Post Company (NYSE:WPO). http://www.kaplaninternational.com