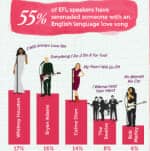 Kaplan's Language of Love Infographic shows that among 1,213 English learners surveyed, 52% of them have learned English to better understand a celebrity – and the top musician who inspires students to learn English is Rihanna. Her hit singles such as Diamonds and Rude Boi are popular all over the world; non-native speakers enjoy the catchy melodies and want to learn English to understand the lyrics.
According to Chloe Govan, author of Rihanna: Rebel Flower, music is the universal language and it's natural that students want to become more like the talented and glamorous Rihanna by learning to speak English. "Whereas in days gone by, students were inspired by Shakespeare, Rihanna is the icon of the modern generation. If music is the language of love, play on!" she said.
The Language of Love Infographic also shows how students use English in their own love lives, as well as their votes for the most romantic English-speaking city and the English-speaking country with the most attractive people.
——————————————————–
This post comes from Kaplan International Colleges.
Kaplan International Colleges is part of Kaplan, Inc., an international education services provider offering higher education, professional training, and test preparation. Kaplan is a subsidiary of The Washington Post Company (NYSE:WPO). http://www.kaplaninternational.com