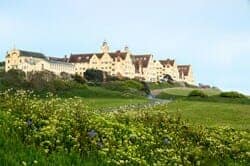 In Summer 2014, Kaplan's junior school in Brighton will relocate to Roedean Independent School, which is set on a lovely cliff top overlooking the sea.
In Kaplan's Brighton school, students ages 12-18 can stay in comfortable accommodations while participating in classes and other activities, such as sports and arts, in an English-speaking environment. The new location will make the experience even better, as Rodean is one of the leading independent schools in the UK and offers excellent facilities.
Kaplan uses a special program called K+ teens to help young learners improve their English, build their confidence, and make friends from around the world in a safe and welcoming atmosphere.
Not only is Brighton one of the most exciting cities in the UK, but the new location of Kaplan's junior school is just a few minutes away from the beach. Students are sure to have a wonderful summer experience at Kaplan's Brighton Young Learner Program!
——————————————————–
This post comes from Kaplan International Colleges.
Kaplan International Colleges is part of Kaplan, Inc., an international education services provider offering higher education, professional training, and test preparation. Kaplan is a subsidiary of The Washington Post Company (NYSE:WPO). http://www.kaplaninternational.com