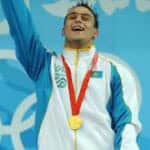 Kazakhstani weightlifter Ilya Ilin, a two-time Olympic gold medalist and world record holder in the men's 94 kg, has set his sights on a new goal – improving his English.
Ilya is considered one of the best Asian athletes in the world. He was the only weightlifter to retain his title in the London Games after winning the gold medal in Beijing.
"When you travel so much in the world, English is something you must know. It can open new doors for friendships and professional connections. I'm very happy to come back to London and get the chance to improve my English," said Ilya.
To achieve his English-learning goals, Ilya has chosen to participate in a Kaplan English course in London, where he will take a semi-intensive 10-week program that focuses on the essential language skills of reading, writing, listening, and speaking.
——————————————————–
This post comes from Kaplan International Colleges.
Kaplan International Colleges is part of Kaplan, Inc., an international education services provider offering higher education, professional training, and test preparation. Kaplan is a subsidiary of The Washington Post Company (NYSE:WPO). http://www.kaplaninternational.com