On Other Websites:
TalkEnglish.com has short speaking lessons on many topics
Elllo.org has 1000+ conversations with audio and transcript
Find speaking partners:
---
On Espresso English:
Take Level 2 of the Everyday English Speaking Course!
The next level has 45 brand-new lessons with more advanced conversations that are full of common informal expressions used by native English speakers.
It teaches you the phrases in context so that you'll be able to remember and use them – and become more fluent as a result. There are also speaking exercises in which you can record yourself talking and get feedback.
---
This course has a similar format – first you'll read and listen to a conversation, and then you'll watch my explanation to learn the phrasal verbs in the dialogue.
Phrasal verbs are VERY common in everyday English, so it's important to learn and understand them if you want to be fluent!
---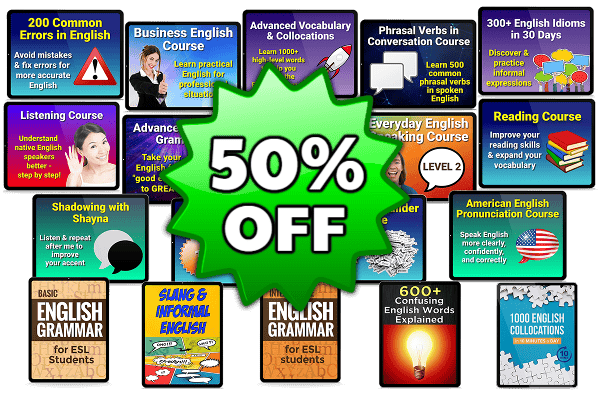 You can get ALL my courses and e-books (more than 600 total lessons) at a 50% discount…
…and you can apply your credit from all the courses & e-books you've already bought to reduce the price even further!
Just e-mail me if you'd like to do this, and I'll send you a special link.