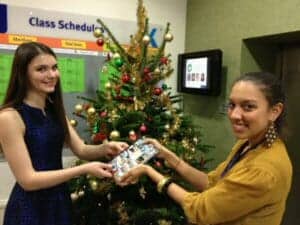 Taking an English course in an English-speaking country can be a life-changing experience – and now students of Kaplan International Colleges can share their memories in a fun way by contributing to the Kaplan Experience Journal.
The Journal is a physical scrapbook that is being passed around among Kaplan's English schools in seven countries. Students at each school complete two pages of the journal with their own messages, photos, and other special memories. The Journal started at the Kaplan English school in London; it has traveled to three destinations in the past month, and will finish its journey in New Zealand.
"We're really happy with the enthusiasm that the colleges have shown for the project. We can't wait to see the finished result!" says Hazel Marie Francis, Kaplan's Social Media assistant.
The goal of the Kaplan Experience Journal is to create excitement and build connections among the students and schools in Kaplan's international community. You can follow the Journal's progress on Kaplan's Facebook, Twitter and Instagram accounts.
——————————————————–
This post comes from Kaplan International Colleges.
Kaplan International Colleges is part of Kaplan, Inc., an international education services provider offering higher education, professional training, and test preparation. Kaplan is a subsidiary of The Washington Post Company (NYSE:WPO). http://www.kaplaninternational.com