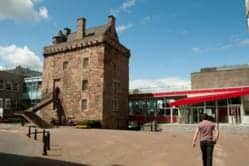 Kaplan English courses for teenagers will now include a program in beautiful, historic Edinburgh, Scotland. The new school is located on the Napier University campus, which has a 12th-century castle on its grounds.
Anna Robinson, Kaplan's Junior Operations Manager for the UK & Ireland, said: "Edinburgh is a wonderful historic city which has been an extremely popular destination for young English language learners for well over forty years."
The junior English courses in Edinburgh, which are available from June 23 to August 10, include day trips, evening activities, and sightseeing – providing an exciting and interactive environment for students to practice their English and learn about another culture.
Kaplan has an outstanding reputation and was recently voted "best educator in Scotland." The schools in Edinburgh and Brighton are the newest additions to Kaplan's junior English program, which also offers courses in Bath, Bournemouth, London Kingston, Salisbury and Torquay.
——————————————————–
This post comes from Kaplan International Colleges.
Kaplan International Colleges is part of Kaplan, Inc., an international education services provider offering higher education, professional training, and test preparation. Kaplan is a subsidiary of The Washington Post Company (NYSE:WPO). http://www.kaplaninternational.com