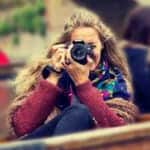 Want to win the English-learning experience of a lifetime?
Help select the winner of the Kaplan Talent Awards, and you could win a free English course in London, New York, Sydney, Singapore, or at one of Kaplan's many other learning centers!
The Kaplan Talent Awards is a social media competition aiming to select the best student photographer with the help of Kaplan's Facebook fans. 30 finalists have been chosen from among more than 1,000 student photos submitted.
Kaplan's Social Media Manager, Robert Pickstone, says that Kaplan students have an impressive talent for photography – and the Talent Awards were created to recognize their skills while involving the Kaplan Facebook community.
The winning student photographer as well as one lucky participant in the voting will have the opportunity to take a free two-week English course at any Kaplan English language school.
To judge the photographs and enter the prize draw for a two-week English course, visit http://www.facebook.com/kic and use the Kaplan Talent Awards Facebook App. The deadline for the competition is May 13, 2013.
——————————————————–
This post comes from Kaplan International Colleges.
Kaplan International Colleges is part of Kaplan, Inc., an international education services provider offering higher education, professional training, and test preparation. Kaplan is a subsidiary of The Washington Post Company (NYSE:WPO). http://www.kaplaninternational.com