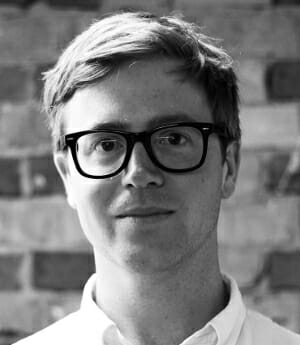 This is a guest post series by Alastair Budge, the founder of Leonardo English and the host of the English Learning for Curious Minds podcast, a podcast for intermediate English learners and curious minds. The podcast comes with subtitles, a transcript, and key vocabulary, and is trusted by 100,000 students in 157 countries.
This is Part 2 of our series on learning English outside the classroom. Check out Part 1 – Learning English with Podcasts and Part 3 – Learning English with YouTube.
Netflix needs no introduction. 
It's watched by hundreds of millions of people around the world and is a collection of some of the best TV shows and movies out there.
You may already watch it in your native language, but you have probably watched some English language films too. Perhaps you've watched them with subtitles, or maybe you've thrown yourself in at the deep end and watched them without subtitles.
Here's how you can use Netflix to help you learn English outside the classroom.
Before you start
Watching films, for most people, is an enjoyable activity. We watch films for fun, and so you might think that you can just start watching films in English and it'll count as your 'learning English activity'.
So instead of spending an hour reading a book or listening to podcasts, you switch on Tiger King.
This is one of the most common mistakes that people make when learning English. 
Netflix and TV can be great, but they are very passive language learning activities. A Harvard study showed that your brain can actually be more active when you are asleep than when you watch TV. 
So don't make the mistake of thinking that all of these activities are equal. Watching Netflix can be very enjoyable, but it shouldn't replace the more 'active' learning activities that you do (such as listening actively to podcasts).
How to use Netflix effectively
For all the doom and gloom around watching Netflix being a passive learning activity, there certainly still is a place for it.
Firstly, it's fun. You enjoy it, and this means that it's easier to do larger amounts of it.
Learning English isn't a sprint, and if you mix 'intensive' activities (such as shadowing a podcast) with lower stress activities (such as watching Netflix), this is an excellent way to keep yourself surrounded by English but to not burn out.
We can't all learn at 100% all the time (Pat from Laid Back Languages is a great person to follow if you like this kind of philosophy), and language learning should be an enjoyable journey.
Here are a few tips that should help you get started with Netflix:
1. Use English subtitles
Unlike with podcasts, you have video to help you understand. There really isn't any excuse to use subtitles in your native language, even if you are a beginner.
You will be able to understand a lot through context, even if it's tough at the beginning.
When I was 18 I lived in Perugia, in Italy, while I was learning Italian. 
I lived with a German guy, who couldn't speak English or Italian, and I couldn't speak German.
We always used to watch the German soap operas Unter Uns. When I started, I couldn't understand a word of it. But after a few weeks, I quickly picked things up. 
If you are an Intermediate or above speaker, and you still feel that you need the crutch of the subtitles, then at least try not to look at them. It can be tempting but keep your eyes on the top of the screen, and only look down at the subtitles if there's something that you really didn't understand. 
If you are always just reading the subtitles, then you aren't forcing your brain to actually listen, and you'll be disappointed with how slowly you progress.
2. Turn off the English subtitles
If you feel that you can understand 80% of what is going on in a film or TV series, then turn off the subtitles. 
It might make watching it just slightly less fun, but from a learning perspective, you will improve so much faster. You'll force yourself to understand the meaning, and you won't just default to reading the subtitles.
Note, for beginners, there is a Chrome Extension that allows you to have two subtitles at the same time – the English, and your native language. Although this might be tempting, it's easy to get complacent when using it. 
If you're really looking to improve your English, and you do need some form of subtitles, then we'd recommend just sticking to English. It might feel a little uncomfortable to start, but it will help you progress 10 times faster.