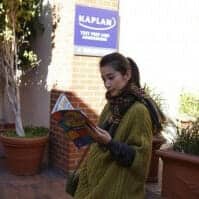 Li Bingbing is a Chinese actress and singer who has won a number of acting awards – and she studies at a Kaplan English language school. She comments on the importance of having excellent instruction, and says that Kaplan has definitely helped her develop her skills
"Learning another language actually is learning a new culture, is also a new way to know who you are. So we need a good mentor when we study.
"I like the personalized education from Kaplan International College. It was just like Chinese traditional private school education. I improved my listening and speaking a lot," said Li Bingbing.
Li Bingbing co-starred with Jet Li and Jackie Chan in the 2008 martial arts movie The Forbidden Kingdom, and she also plays the video game character Ada Wong in the movie Resident Evil: Retribution. Watch for Li Bingbing in future films, such as the action-fantasy thriller 400 Boys, to be released mid-2013.
——————————————————–
This post comes from Kaplan International Colleges.
Kaplan International Colleges is part of Kaplan, Inc., an international education services provider offering higher education, professional training, and test preparation. Kaplan is a subsidiary of The Washington Post Company (NYSE:WPO). http://www.kaplaninternational.com