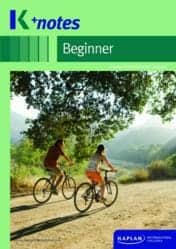 If you learn English with Kaplan International Colleges, you'll get more than just a textbook – you'll also benefit from the K+ materials, an innovative mix of resources that include books, apps, games, and online platforms.
The K+ materials were developed specifically to meet the needs of Kaplan students, aiming to provide a varied and interactive learning experience. All the parts of the K+ materials are integrated, so students can enjoy a comprehensive English learning program involving live classes, interactions with other students, and online tools. This type of blended learning is not only more effective, but also more fun than more traditional learning methods.
Kaplan has recently launched the K+ materials for students at the beginner level. In England, beginner courses are available at Kaplan's schools in Bath, Bournemouth, London Covent Garden, Manchester and Torquay.
——————————————————–
This post comes from Kaplan International Colleges.
Kaplan International Colleges is part of Kaplan, Inc., an international education services provider offering higher education, professional training, and test preparation. Kaplan is a subsidiary of The Washington Post Company (NYSE:WPO). http://www.kaplaninternational.com