Do you want to improve your English fluency… but you don't have much time to study?
Espresso English can help! My online lessons are quick and powerful – just like an espresso coffee ☕ – so you can learn LOTS of English in LITTLE time – just about 10 minutes a day.
More than 100,000 English learners around the world love my clear and practical lessons, and I hope you will, too!
Want to try before you join? Download free sample lessons from my Complete Program for English learning:
---
Hi, I'm Shayna – the teacher here at Espresso English.I've helped more than 10,000 students like you, from all over the world, improve their English through my clear and practical lessons.

With more than 10 years of teaching experience, I know how to get you the results you want from your English learning, without wasting your time.
---
The Complete Program helps you improve ALL your English skills step by step – so you can become
more fluent

and

more confident! 


(even if you have little time to study)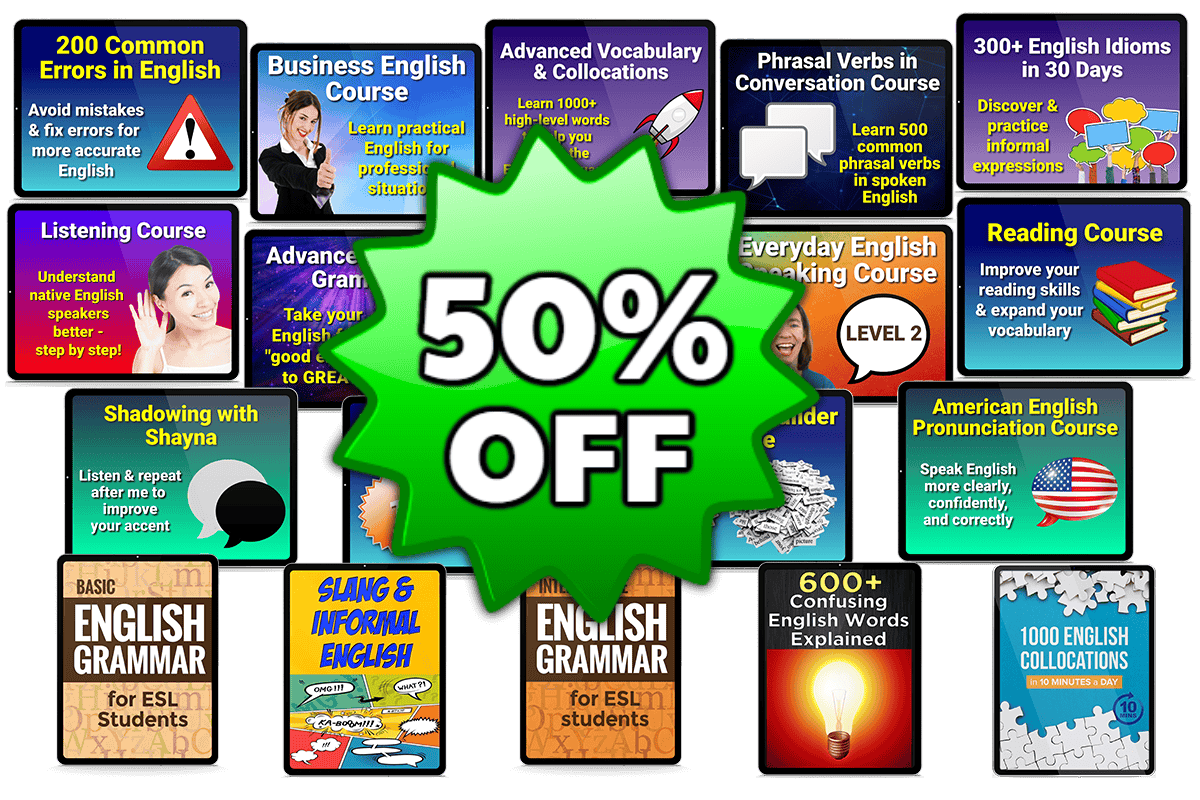 Normally $600

 Now $297
⭐ (50% discount) ⭐
One-time payment
ALL courses & e-books
600+ lessons
Instant & permanent access
⭐ Bonus USB drive
Pay over 3 months
ALL courses & e-books
600+ lessons
Instant & permanent access
Pay over 6 months
ALL courses & e-books
600+ lessons
Instant & permanent access
---
Students love the Complete Program:

"I bought the Complete Program and I'm loving it! The method used  is truly great and it has been working well for me so far. Courses are easy to understand, well-detailed and perfectly explained along with exercises or quizzes you can send in for being corrected and getting feedback afterwards.

So, if you feel like improving or sharpening your English level, Espresso is there for you – it's actually a masterpiece; go for it without any hesitation." ~ Andrianina from France
---
This is for you if
you already know some English…


but

you're not yet fluent.
There are
3 problems

that can hold you back when learning English online:
| | |
| --- | --- |
| | You're not sure where to start or what to study next. You look around the internet for things to study – and you try to learn from a random collection of videos and websites. |
| | You end up with weak spots in your English skills. Maybe you have decent grammar, but you're nervous to speak. Or maybe you can read well, but listening is hard. |
| | You don't have many opportunities to practice, so you feel like you're forgetting what you learn and not making progress in English. |
Maybe you start to fear you'll
NEVER

have the
strong, confident English skills you want… 🙁
---
GOOD NEWS:


You

CAN

reach your goals in English!
It's totally possible for you 🙂
You need 3 things: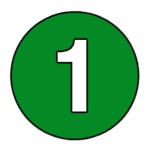 An organized system of lessons that will show you what to study, step by step
– like a map showing you exactly how to reach your destination.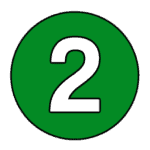 A program that covers ALL the areas of English, so that you can improve everything:
speaking, listening, grammar, vocabulary, reading, writing, business English, informal English, and more.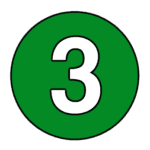 Practice exercises and teacher feedback so you will KNOW you're making real progress –
and feel good about how much you're improving every day.
---
When you follow a study system like this, the result is that your English becomes 
more fluent

and

more confident!
---
Student comment:

"Your teaching method provides me what I desire from English. That is why I purchased your Complete Program. Every day I speak aloud and force myself to express everything in English. Doing this helps me to improve myself day by day."
– Ramazan from Turkey
---
The Complete Program: 600+ lessons to help you reach your goal of
strong, confident English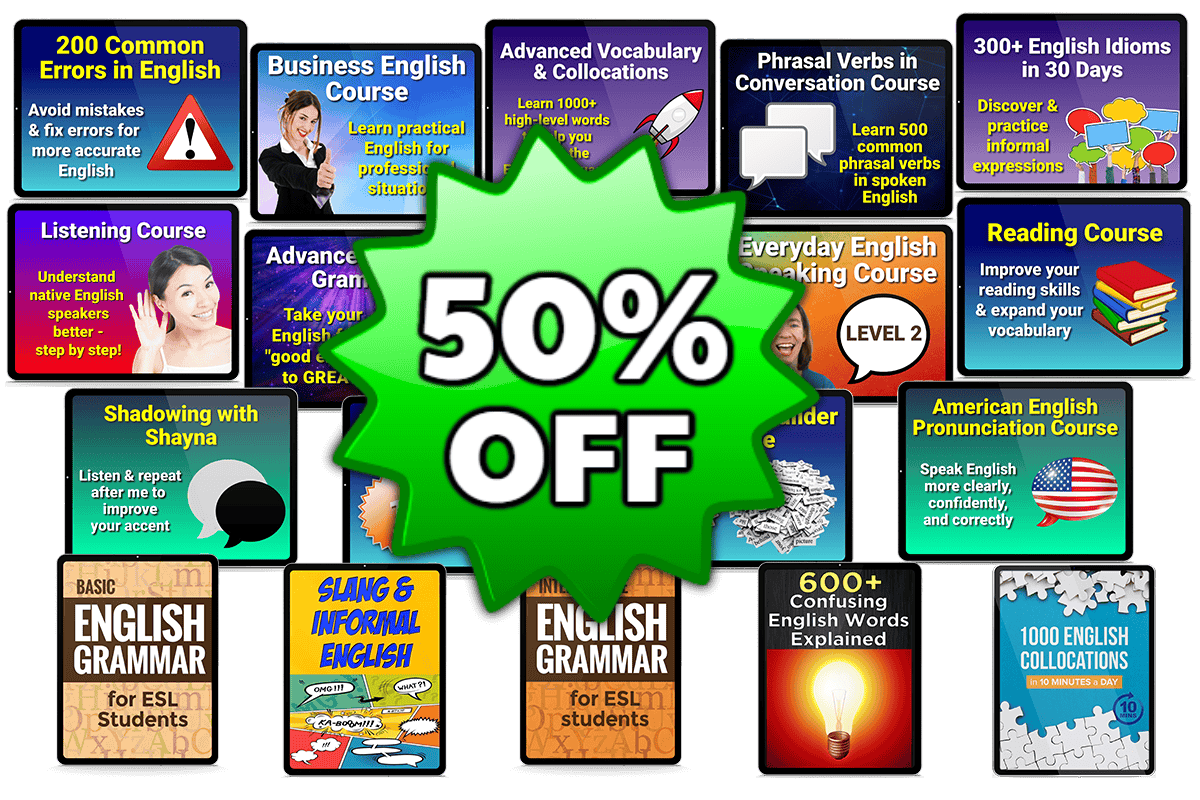 Normally $600

 Now $297
⭐ (50% discount) ⭐
One-time payment
ALL courses & e-books
600+ lessons
Instant & permanent access
⭐ Bonus USB drive
Pay over 3 months
ALL courses & e-books
600+ lessons
Instant & permanent access
Pay over 6 months
ALL courses & e-books
600+ lessons
Instant & permanent access
---
Here's what you'll be able to do inside the Complete Program:
| | |
| --- | --- |
| | Learn practical English phrases so you can speak confidently in work and daily life. |
| | Expand your vocabulary so you can express yourself better in English. |
| | Improve your listening skills and learn to understand native speakers clearly. |
| | Master English grammar so you can avoid mistakes and use correct grammar easily. |
| | Get great pronunciation so everyone understands you when you talk. |
| | Learn the real expressions native speakers use frequently – phrasal verbs, idioms, and slang. |
---
You'll get instant and permanent access to all these courses & e-books:
(Click here to try free sample lessons!)
Everyday English Speaking Course – Level 1 & 2
Learn the phrases and expressions native English speakers use in daily life
Vocabulary Builder Course – Level 1 & 2
More than 2,000 words to expand your vocabulary and increase your fluency
Listening Course
Develop your listening skills so that you can learn to understand every word
Advanced English Grammar Course
Master the advanced details of the English language, so you can create complex sentences correctly
Phrasal Verbs in Conversation Course
Learn common English phrasal verbs in a fun and natural way through dialogues
American English Pronunciation Course
Train your pronunciation so you can speak clearly, correctly, and confidently
Shadowing with Shayna Course
Repeat after me to improve your accent and learn to talk more like a native English speaker
Business English Course
Learn practical English for professional situations, so you can speak English well at work
200 Common Errors in English Course
How to avoid the most common mistakes that English learners often make
Reading Course
Improve your reading comprehension so you can understand articles more easily
300 English Idioms Course
Discover idioms in context and practice using them yourself, so you can express ideas more creatively
Advanced Vocabulary & Collocations Course
Learn 1,000+ high-level words and expressions to help you sound more sophisticated in English
1000 Collocations in 10 Minutes a Day E-Book
Learn the common combinations of words used by native English speakers, so you'll sound more natural
600+ Confusing English Words Explained E-Book
Clear up your doubts about confusing words and learn to use them correctly and confidently
Basic & Intermediate Grammar E-Books
Learn essential English grammar to give you a great foundation
Slang & Informal English E-Book
Learn current, popular slang and informal expressions – with plenty of examples
---
+ Teacher feedback on YOUR English

A number of our courses include opportunities to get personalized feedback and correction!

You can send in your homework – short answers, a written text, or a recording of you speaking – and an Espresso English teacher will evaluate it and send you comments.

It's a very valuable way to find out exactly what you're doing well, and exactly how to improve.
Bonus: Free USB Drive

In addition to your online access, the Complete Program includes a free bonus USB drive with all the lesson videos, audios, and texts on it. You can receive it after your payment is complete. IMPORTANT NOTE: Because of coronavirus restrictions, your USB might be a little delayed. However, I can send you direct download links – just e-mail me after you join the Complete Program. Thanks for understanding!
---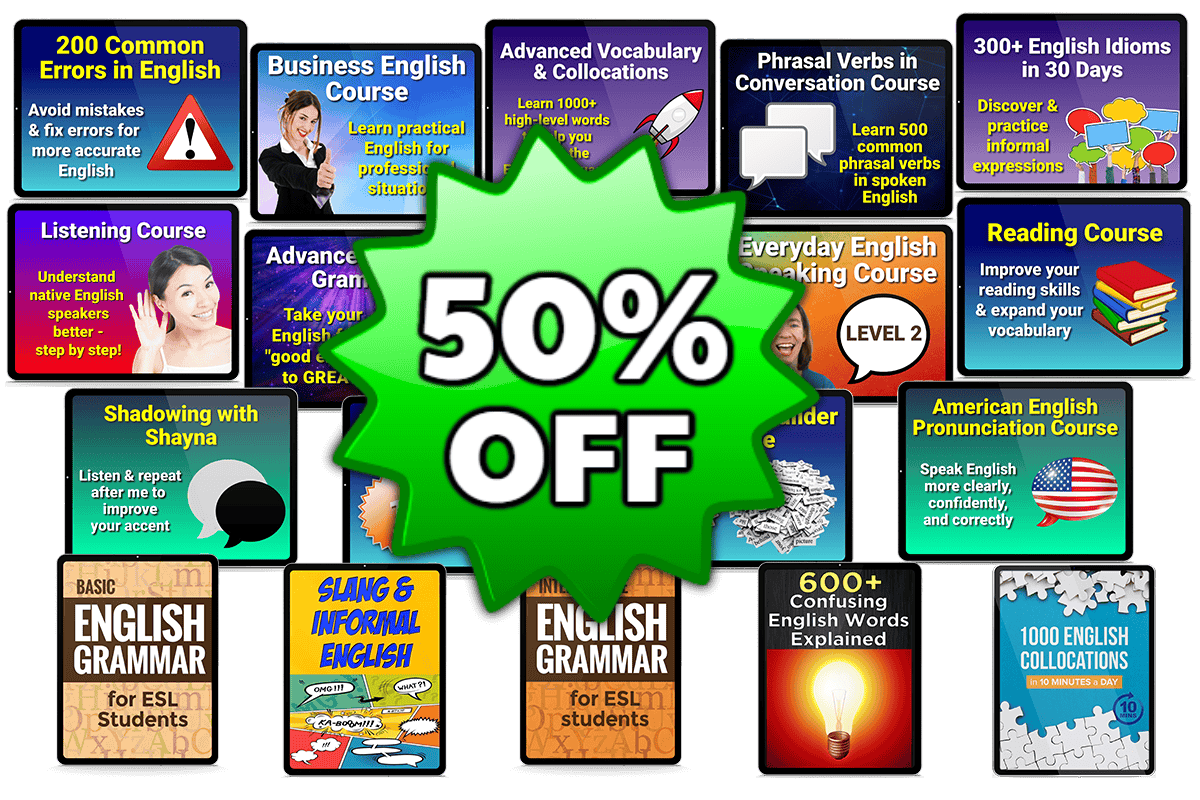 Normally $600

 Now $297
⭐ (50% discount) ⭐
One-time payment
ALL courses & e-books
600+ lessons
Instant & permanent access
⭐ Bonus USB drive
Pay over 3 months
ALL courses & e-books
600+ lessons
Instant & permanent access
Pay over 6 months
ALL courses & e-books
600+ lessons
Instant & permanent access
---
100% Satisfaction Guarantee

I know you'll love this program and you'll learn a lot from it – but if you're not satisfied, just e-mail me within 30 days of purchase and I'll send you a refund within 24 hours.
---
FREQUENTLY ASKED QUESTIONS:
---
1. Will this program work for me?
The Complete Program is not a "magic" solution – but it WILL improve your English dramatically if you do the work of completing the lessons and practice exercises!
If you want to be fluent in English, you have to master ALL the different skills – including grammar, vocabulary, reading, writing, speaking, and listening – and this comprehensive program is designed to help you improve everything.
The best way to find out if the program is right for you is to take the free sample lessons.
2. What order should I take the courses in?
When you join and you log in, there is a suggested order that you can follow if you want, which will take you from the easier courses up through the more challenging ones.
You will see that study guide after you sign up for the program and you log in.
3. How many lessons are there in the program?
There are more than 600 lessons in this program total. So that's enough for more than a year and a half of English study if you take a lesson every day!
The good news is there is no time limit, so you will have access to these lessons permanently. You can take as much time as you need, and after you finish you can always review the lessons if you want.
4. Is there a time limit for my access?
There's NO time limit and NO repeating payments!
You'll pay once and then have access to the Complete Program permanently.
5. What kind of help will I get inside this program?
Many of the courses include homework that you can send in for feedback, and a member of the Espresso English teaching team will reply with comments and corrections.
Some of the courses have short answer questions (the vocabulary courses, the idioms course, and the phrasal verbs course). There's also feedback in the Advanced English grammar course and the Reading Course; those include writing tasks where you can send in a paragraph and get feedback from a teacher.
What about for speaking? Well, the speaking and pronunciation courses include the ability to send in recordings of yourself talking, so we'll correct your pronunciation and any phrases, grammar, or vocabulary that could be improved.
This feedback is really valuable for students at any English level! The opportunity to get personalized comments on your English from a teacher and a native speaker will benefit you a lot and help you correct any mistakes and improve your English speaking, writing, grammar and vocabulary.
6. Are there any live lessons in this program?
No, because this program is designed for self study.
It's more convenient – there's no need to schedule anything or to cancel if you have to miss a class. You can just log in and take the lessons anytime – and when you send in your homework, our teachers will correct it within a few days and send it back to you.
Although there are no live conversation classes inside this program, you can certainly e-mail us any questions you have as you're taking the lessons, and we will be happy to help you out!
7. Can I try the program before I buy it?
Yes! That's why I made the free sample lessons available:
You can download a free sample lesson pack, or you can take them on the website so that you can really see what each course and each e-book is like. These free samples are directly from inside the program. And when you join it, you will get all 600 lessons.
8. How does this compare to other English learning options?
The Espresso English Complete Program is very convenient because you can study anywhere, anytime – without having to schedule anything or go anywhere!
And it's a great deal considering how many lessons you get:
1 year in a local English school = $1,000+
1 year of daily private lessons = $5,000+

1 year of intensive classes in an English-speaking country


= $10,000+ (plus travel and living expenses)
But you can get 600+ of my best lessons in the Complete Program for just $297 (this is discounted from the normal total price of $600).
Note – I don't believe there's a "best way" to learn English. But when you find a way that works FOR YOU, then you should do that 🙂 So if you like my teaching, then don't delay – join today to get the absolute best price on the Complete Program.
9. How can I pay? Is it safe?
Yes! The payments go through a secure connection that keeps your information safe.
You can pay for the course with a credit card, debit card or PayPal.
---
Now I have some questions for you:
Are you ready to improve all the areas of your English?
Do you want to become an advanced English speaker?
And do you want to get the best price possible on 600+ lessons?
You will get instant access to them when you join the Complete Program!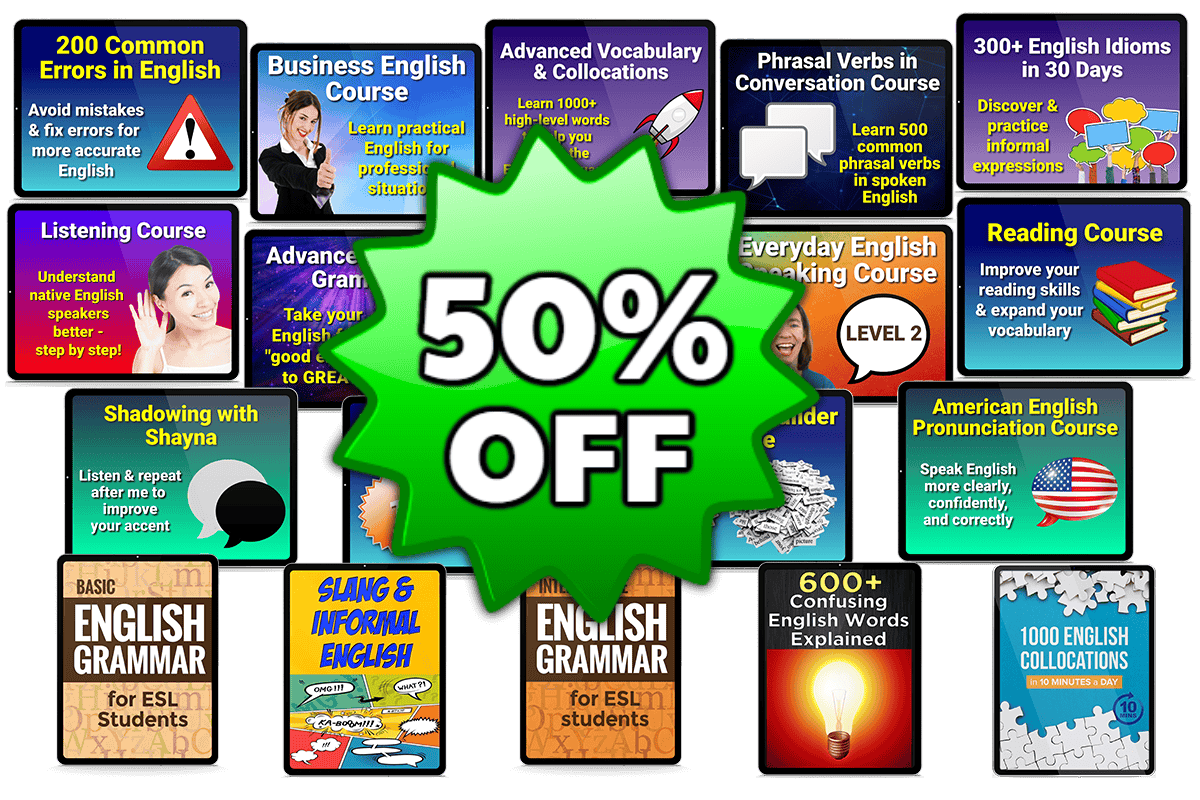 Normally $600

 Now $297
⭐ (50% discount) ⭐
One-time payment
ALL courses & e-books
600+ lessons
Instant & permanent access
⭐ Bonus USB drive
Pay over 3 months
ALL courses & e-books
600+ lessons
Instant & permanent access
Pay over 6 months
ALL courses & e-books
600+ lessons
Instant & permanent access