How Espresso English Can Help You Learn English
Learn English Online – Anytime, Anywhere
No need to drive to an English school… at Espresso English the lessons come to YOU – delivered directly to your e-mail address.
Also, when you buy a course or e-book, you can take the lessons online or download them and save them on your computer – so you can study even when you don't have an internet connection.
Espresso English courses are self-paced, meaning you learn at your own rhythm. You can take one lesson a day, one lesson a week, or ten lessons a day – it's your decision! There's no time limit.
Learn English Quickly and Easily – Even if You're Busy!
Each lesson on the website takes about 10 minutes. If you're tired of spending hours reading textbooks and dictionaries, or constantly searching for information on the internet – you'll love Espresso English lessons, because they are designed to teach you a LOT of useful English quickly and effectively.
My teaching style is practical and clear. Learning English doesn't have to be difficult or confusing! If you're frustrated with the English language or if you suffer from "information overload" when studying, Espresso English lessons will help you learn easily – and enjoy the process.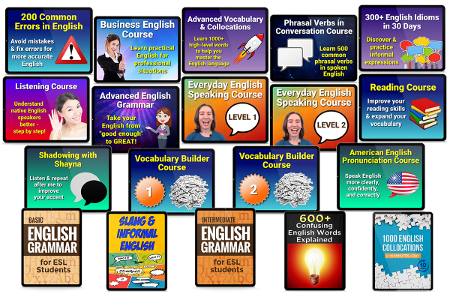 You can get ALL the Espresso English courses and e-books – a total of more than 600 lessons – at a 50% discount!
You will improve every area of your English skills, including speaking, vocabulary, grammar, reading, listening, pronunciation, phrasal verbs, idioms, and more.
COURSES
E-BOOKS
| | |
| --- | --- |
| | |
| Slang & Informal English | Basic & Intermediate Grammar |
---
Want to help sell my products? Become an Espresso English affiliate!
---
100,000+ Students Love Espresso English!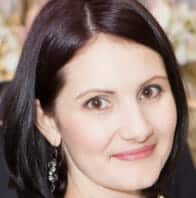 I am really happy to watch and read your posts. They are clear, short and easy to understand.  Espresso English helps me to improve my English, especially, by learning different expressions and use of words from the American daily conversations.
~ Marina, Moldova
It has been 6 months+ that I am working with Espresso English! It is just AMAZING how my vocabulary, grammar and pronunciation have improved, just by listening and reading your courses every day.
~ Vanessa, France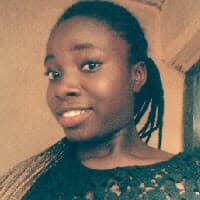 Espresso English has helped me so much in the way I speak, communicate, use tenses in everyday use and so many things. Espresso English is the best I have ever come in contact with so far!
~ Faith, Nigeria
Espresso English offers many different courses to meet all your needs for learning and practicing English. The courses are offered at very good prices, good organization that helps you learn it easily. The English Teacher at Espresso English, Shayna – the founder of this program, is very helpful and nice. She is always there when I have questions. I strongly recommend Espresso English to everyone!
~ Ben, from Vietnam, now living in the U.S.A.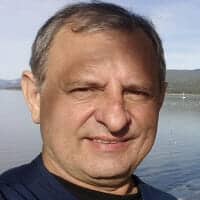 I really have improved my English skills in all directions with Espresso English. The E-books and Courses are wealthy and with hyper-good explanations. I love reading, listening and practicing all the materials produced by Espresso English and I feel like got addicted to it.
~ Jaime, Brazil
---
See our Online Courses & E-Books